CHILDREN ARE EATING TOO MUCH FAST FOOD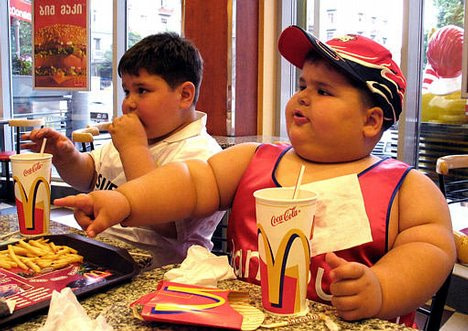 A recent study by University of California, San Diego (USSD), pediatrics researchers showed that fast food lunches accounted for 36-51% of a child's daily caloric needs. Furthermore, it was found that fat constituted 35-39% of the calories.
The problem starts with the parents. They are either "too busy", lazy or uneducated in the realm of healthy eating. Kerri N. Boutelle, PhD, behavioral director of the Weight and Wellness Clinic at UCSD and Randy Children's Hospital, San Diego states "We found that families perceived fast-food restaurants as easy and cheap, and many were using fast food as a reward for their children." There is a major different between using fast food as a reward and it making up more than half of a children caloric intake. That's just insanity. And then we sit around and wonder why childhood obesity is on the rise and why the new generation is just plain lazy. She also says that "on a typical day, a remarkable 30% of youth report consuming fast food."
Sorry there are just no excuse for this growing trend. So you save a couple of bucks and some time ? But at what cost ? Is a few extra bucks in your pocket worth the health and the physical well being of your children ? Think about it next time you journey to the fast-food restaurant with your family and it is your third time that week.
Fast food is alright once in a while as a treat or reward. However this crap food will never replace a good home cooked meal. Soda will never replace water, milk or orange juice. You and your children only have one body, so you better take care of it.
What OUR clients
Are Saying
"Sci-Unison Fitness is not just a diet program, it is a path away from a sedentary lifestyle. Ryan Sullivan and his Sci-Unison methods have turned me from a fitness enthusiast into a bodybuilding champion. While many of you may not have the same goals as I have, I can assure you that his methods and expertise apply to all aspects within the fitness realm. I Back Sci-Unison Fitness 100%"
"After a few attempts of trying to compete with no real knowledge on how to really prep and peak for a competition,Ryan Sullivan offered to take me under his wing as a client and I jumped on it…..All through out the process he was there to answer any questions I may of had about anything…He introduced me to a new way of dieting which was designed just for me…he is very knowledgeable in all areas dieting,supplements,and training…he's serious about his craft and the bottom line is he produces results!!!I'm very grateful to have him as a coach and a friend"….
I was already in good shape but Ryan helped me take it over the edge with his total body program, the Frequency Focus Physique !! The workout charts and nutrition guidelines were easy to understand and to follow! The videos sealed the deal if I had any question on exercise form or nutrition breakdowns.

Thank you Ryan!! Sci-Unison Fitness is the BEST!