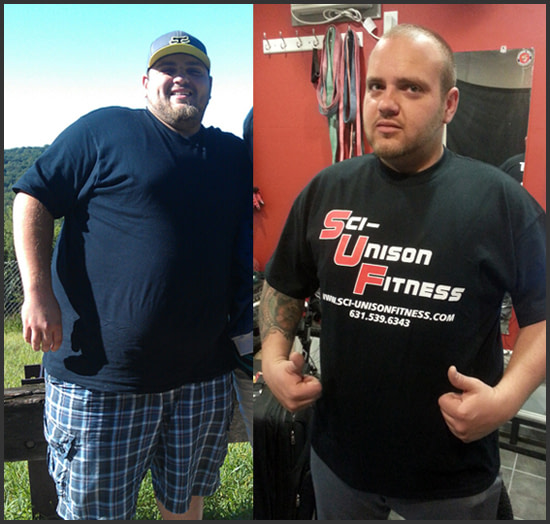 Sci-Unison Fitness Client of the Year Mario M lost a total of 100 pounds.
Mario turned to Sci-Unison Fitness when his weight and lifestyle began to wreak havoc on his health. He knew he had an uphill battle at hand, but he made the commitment to change his life. Our goal was a slow, steady, yet consistent approach to his weight loss. There were no crazy starvation diets involved. We both wanted the weight loss to be permanent. Throughout the process he also gained considerable strength and muscle mass. This transformation is big milestone for Sci-Unison Fitness as Mario was the first client to lose 100 pounds. He was awarded the Sci-Unison Fitness Achievement of Excellence Award and the title of 2013 Sci-Unison Fitness Client of the Year.  Truly inspirational story.
In order to reach his goal Mario did a combination of the Extreme Physique Transformation online training and nutrition program, along with SUF JunkYard Group Training.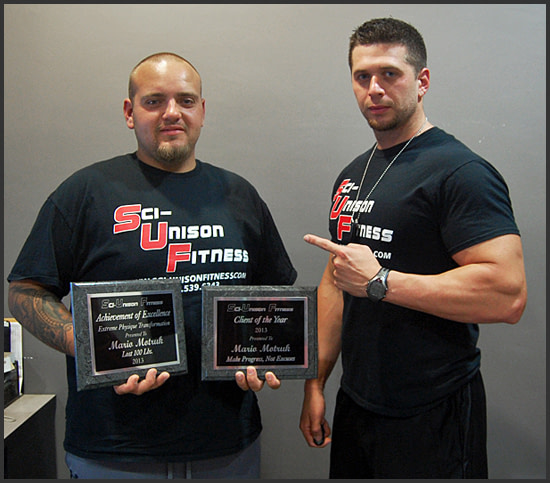 MUSCLE AND FITNESS MAGAZINE CHEST WORKOUT DECEMBER 2012
Special Thanks to Joe Wuebben of Muscle & Fitness Magazine...
What OUR clients
Are Saying
"Sci-Unison Fitness is not just a diet program, it is a path away from a sedentary lifestyle. Ryan Sullivan and his Sci-Unison methods have turned me from a fitness enthusiast into a bodybuilding champion. While many of you may not have the same goals as I have, I can assure you that his methods and expertise apply to all aspects within the fitness realm. I Back Sci-Unison Fitness 100%"
"After a few attempts of trying to compete with no real knowledge on how to really prep and peak for a competition,Ryan Sullivan offered to take me under his wing as a client and I jumped on it…..All through out the process he was there to answer any questions I may of had about anything…He introduced me to a new way of dieting which was designed just for me…he is very knowledgeable in all areas dieting,supplements,and training…he's serious about his craft and the bottom line is he produces results!!!I'm very grateful to have him as a coach and a friend"….
I was already in good shape but Ryan helped me take it over the edge with his total body program, the Frequency Focus Physique !! The workout charts and nutrition guidelines were easy to understand and to follow! The videos sealed the deal if I had any question on exercise form or nutrition breakdowns.

Thank you Ryan!! Sci-Unison Fitness is the BEST!